Well, in my side you can see my avatar, the "Plumpty" mouse on Cheese Balloon.
I made that avatar from scratch and its a good make-up.
I was wondering if anyone wants me to make avatars for them.
Moderators and Admins, what did you think about my avatar image and my idea?
Ex: after the make-up of my original avatar, I got new title: "Gleany". And then I updated my image:
In this 1st Image, I am a Glutton Mouse.
In this 2nd Image, I am a Gleany Mouse.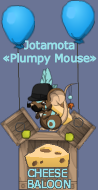 In this 3rd Image, I am a Plumpty Mouse.
Note the make-up for the replacement of the title and let me know about anythings you guys noted.
Please reply!